Overview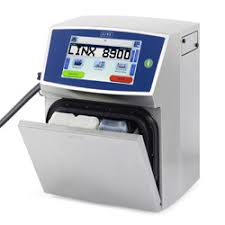 Spend more time coding and increasing your output with a Linx 8900 CIJ printer – the easiest to use Linx printer on the market. The Smartphone-inspired screen makes message selection, creation and printer operation faster than ever. Self-service and minimal intervention increases your production uptime. Print onto both primary and secondary packaging with one printer.
Features
• Flexible coder prints up to 5 lines of text, numbers, barcodes and logos
• Simple self-service with up to 18 months between services - no engineer required
• Quick-change fluid cartridges
• IP55-rated stainless steel enclosure as standard with IP65 option
• Real-time output measurement and line stoppage logs
• Range of ink types and colours for both consumer and industrial marking
• Date freezing for batch printing – ideal for 24/7 operations
• Variable character spacing improves vision system recognition.
Download File
Photo Album